Behind the Scenes - Visual Effects
Burning Building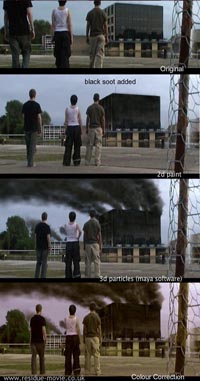 The first of many CG shots on Residue was this dramatic 'burning building' reveal, where three of the lead characters emerge onto the surface to discover total devastation.
The original shot was captured on location in York. It was then sent to visual effects artist Lionel Heath in London, who started working by animating the clouds of smoke. Because the actors are in the foreground they had to be masked out by hand, so that the smoke would appear behind them. Following this, the building was painted sooty black and then the pre-animated smoke was tracked onto the upwards tilting shot using Shake. Finally, colour correction was applied to give the impression of early evening.
The result, a dramatic shot as the camera tilts up from the ground to reveal a realistic smoking building!
Click on the image to open it full size in a new window.
Watch the 'VFX Demo - Smoke' clip (right click and 'Save Target As...').
Download: Quicktime 1.3MB
Download: Windows Media 1.5MB
To view Lionel's website, please click here (opens in a new window).